They Come from Miles Around for His Sports Art
By Alice G. Oropeza (& staff) – August 2021

How far would you travel for a piece of sports art? Well, if you are a fan of sports painting, a fan of the KC Chiefs, a fan of the KC Royals, or a social media follower of Kansas City artist and designer Anthony "AO" Oropeza, then you might travel across a few states for one of his "AO Originals."
Not many know that AO has fans, owners and collectors of his work that extends coast to coast throughout the United States. From Hawaii to New York, AO's what he calls a "small list of clients" possess either amazing originals or awesome limited edition sport prints. Some pieces in the past have made it overseas to US troops in Afghanistan.
Even well known west coast art consultants like Ellie Altomare hold AO in high regard. "You are like the best kept [artist] secret in the country," she said of AO and his sports artwork.
It is difficult to believe that only about eight years ago no one was purchasing, let alone traveling multiple miles, for AO's work. Now, with a nice ("small"- per AO) social media presence, and a few in-person appearances (live painting fundraising events, comic cons, and his own annual art shows), AO is starting to build clients all over the country. For him it is a true blessing that some are traveling hundreds of miles to obtain his work.
If you've never seen an AO original you are missing out on something spectacular. You're consistently going to get layered textured abstract colors combined with a dynamic pose, and a lively intimate subject portrayal.
AO is flattered at meriting an audience outside of KC metro. It's an awesome feeling when art lovers and sports fans reach out to him for work, and it makes him excited to possibly further expand his audience.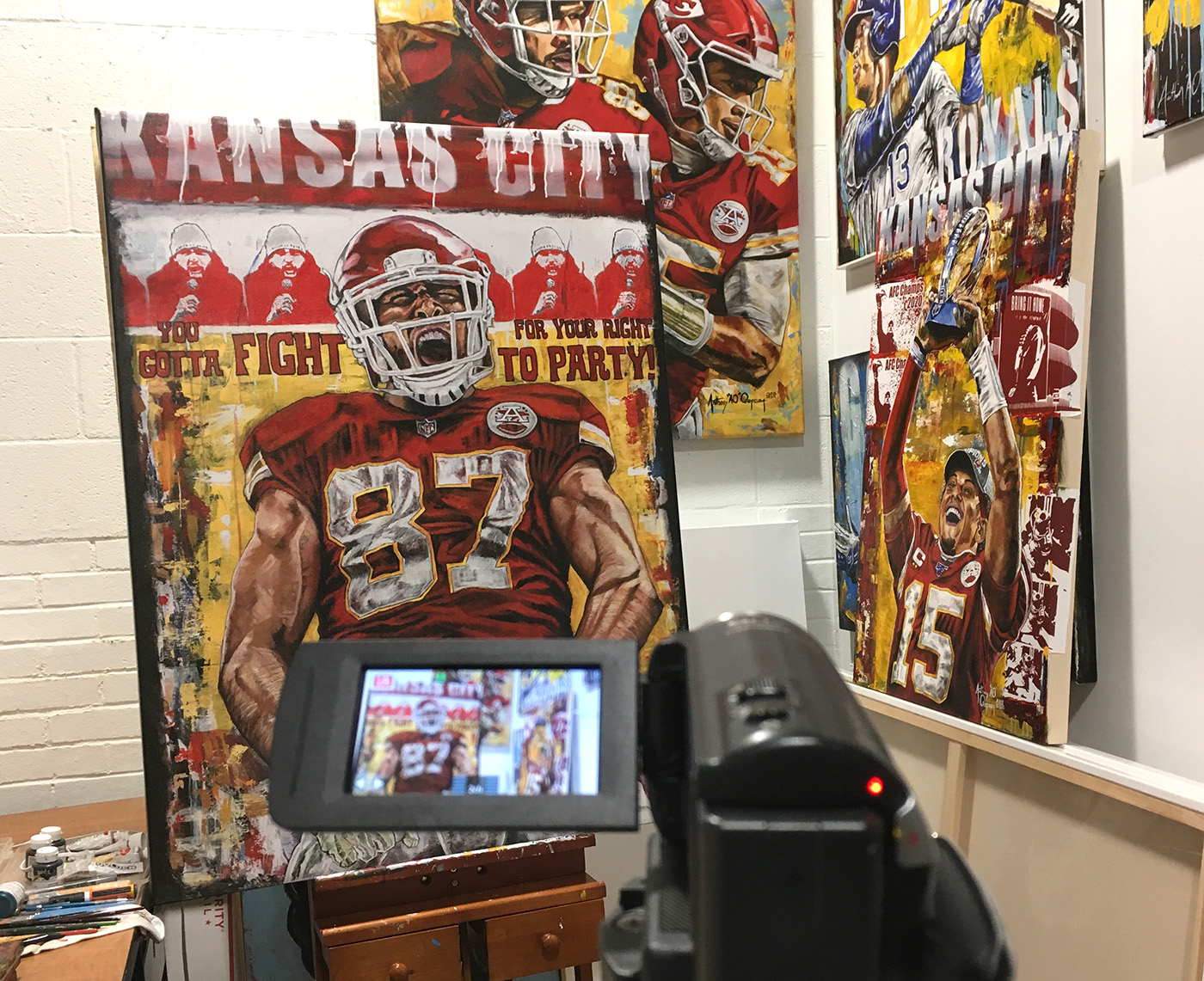 Client Drives 300 Miles to Pick Up Sports Art
In 2020, one of AO's clients that we will call "Larry" (we could not get in touch with him to approve us to use his name for the article) is from Sioux City, Iowa. Larry made the 300-mile drive to the Kansas City area (actually Overland Park, Kansas where the AOART5 Studio is currently located). He made the trek not only to pick up his newly commissioned 3'x4′ AO Original of Travis Kelce, and not only to visit the small but wonderfully populated studio walls of AO's sports paintings, but to meet the artist AO himself.
Clients traveling such a distance to pick up work is not the norm for AO, but he could get used to it. "First of all, it is extremely flattering when someone commissions me for a piece. That, in and of itself, is huge to me. And if they [client] are from out of town, it's even more flattering. Then add on that, if they decide to take time out of their busy lives to travel hundreds of miles to pick it up from me in my little studio because they say they wanted to meet me, man, it's a bundle of huge humbling compliments all in one," says AO.
The commissioned piece that Larry from Iowa recently acquired, the "Kelce – You Gotta Fight…" is a beautiful 3-foot by 4-foot mixed media work on stretched canvas. The main subject is of the Chiefs' all-pro and 2020 Super Bowl champion tight end, Travis Kelce.
In my interview with the KC artist, AO reveals that Larry had emailed him with a specific image of Kelce. In it he explained how much he loved Kelce and his [AO's] work and that he had wanted an AO Original for some time because he had been following his work on social media and was waiting for the perfect image before he approached with a project request. And when he found it [the image], Larry contacted and asked AO if he would create an AO Original for him and his home. AO of course was honored and accepted the project.
… it means people across the country will have a bit of KC work represented in their homes or businesses. It's a pretty cool feeling. I'm very thankful for all of that. It makes all the hardship, rejection, late nights and hard work worth it.
More About His Sport Paintings …
Like many of AO's pieces of work, Kelce's pose is full of energy and excitement, with a great capture of him flexing his arms in a downward motion celebrating another great game moment. AO then had the opportunity and challenge of matching the vibrancy of the main subject (Kelce) with an equally exciting background design. To AO, the background design is just as important as the foreground.
The background for this piece is what can only be explained as exciting and dynamic. The top layer is gritty—muddy even. Browns, whites, yellows, reds, and blacks are smeared on the bottom and side. Then, in the middle and near top, yellow paint is splattered, not only giving Kelce dimension, but a perfect backdrop for eye-catching vibrancy. The words "Kansas City" are spray-painted with AO's signature drip effect at the top edge of the piece with part of the letters missing allowing the eye to fill in the blanks.
Under the "Kansas City" letters and against a striking white strip is a repeating series of stencil likes images of Kelce's face, winter cap on head, holding a microphone referenced from his stage speech at the Union Station in downtown KC after the championship parade celebration. This is when he delivered, or should I say screamed, the famous line, "You gotta fight for your right to party!" from the Beastie Boys hit song, "You Gotta Fight". Right below that series of images you will see the written words separated by the Kelce pose above his shoulder pads – "You Gotta Fight" above his right side and "For Your Right to Party!" above his left.
AO describes his painting process as fun but more work than people think. In addition to that, he said, "The creative freedom is exciting and shows the confidence they [the clients] have in his work." One of his favorite things about this piece (as with every one of his paintings) "is being able to see the idea in my head, put it down on paper (with a few sketches) and then see the painting take form (on canvas/wood) throughout the multiple weeks of me painting that thing."


AO working in his AOART5 Studio located in Downtown Overland Park, KS
The canvas is flat, plain and white. AO takes this plain surface and turns it into a space of emotion full of excitement and celebration. He does this by turning this flatness into dimension—into his vision. "Not only was the process fun, it was challenging."
AO describes the hardest part of the process for this piece was dealing with the delays caused by a few family related issues in 2020, compounded by the COVID-19 shutdown. He says, "It felt like those things put the world on pause." AO explains that these issues did delay his working hours and progress, but the client, Larry, was very understanding, a great person to work with, and it was an honor to create the piece for him. 

AO says, "There is nothing cooler than knowing after you're gone, or if I put up my brushes before I check out, that there will be others out there, other than my family, that will have pieces of my work within their homes, and what makes it even cooler is that my work has extended outside of KC, which means people across the country will have a bit of KC work represented in their homes or businesses. It's a pretty cool feeling. I'm very thankful for all of that. It makes all the hardship, rejection, late nights and hard work worth it."