---
Sports Art … To Purchase or Not to Purchase. Part 1
by Anthony "AO"Oropeza – Owner / Chief Creative of AOART5
May 2023
On the fence about buying that awesome piece of sports art (or any kind of art) from your favorite established or emerging artist? Well, here are a few things to consider when thinking about adding to your collection.
Is Purchasing Art an Investment?
I have come across a few discussions in my time about the topic of art as an investment?  Is purchasing art an investment? My short answer, "Absolutely".
For me, investing in an artist's original work (sports, landscape, abstracts or otherwise),  has become an increasingly popular way to not only beautify a person's man-cave or she-cave, den, living room, bar or office space, but it is also a great way to diversify portfolios and reap financial rewards in the long-run. Per artelier.com, "While it is true that art is not a liquid asset, it can be a very smart investment for those who know how to do it correctly."
The appreciation of original artwork has soared over the last two decades, making it a highly attractive investment option for sports fans, art collectors and investors alike. For instance, data from Artprice Index reveals that the value of contemporary art has grown by over 600% since 2000. This impressive performance is even more remarkable when compared to traditional investment vehicles like stocks and bonds. While the value of art can be volatile, investing in original artwork can offer steady returns, stable pricing and long-term appreciation. With that, the opposite is possible as well. There is no guarantee that an emerging artist can or will become a household name. Not every artist can become the next Jean-Michel Basquiat, Stephen Holland or Leroy Nieman – but who knows?
Timing Might be Everything
One important factor to consider when investing in original artwork is timing. The best time to buy an artist's work is usually during the beginning of their career, when their prices are extremely affordable. If you believe an artist might have a 30-40 year career, maybe investing in his work within the first 5-10 years might be a decent investment. Collectors and investors who can spot emerging artists on the cusp of success can invest in their work, support and promote them (via word of mouth) and then watch their value skyrocket as the artist gains popularity and recognition. Once an artist has established themselves, their work may become more expensive, making it more difficult for investors to make substantial returns.
In 2015, when I was just starting out, I priced my first KC Royals pieces in the $300 – $500 range. Now, they for quite a bit more than that in 2023.  In my opinion, if you scooped up an AO Original  between 2013 and 2016, you got yourself a pretty good deal, with that, my prices today are still relatively low compared to other sports artists in other parts of the country like in New York or California but are a bit higher now than in 2016 – and in my opinion, the work has gotten a bit better (shameless braggery).
The value of original artwork rise not just due to their perceived aesthetic value but the rarity, exclusivity they offer and the creative originality the artist brings to the table. As all level of art collectors and investors buy them up and take them off the market, their value increases. The demand for original artwork is also influenced by factors such as cultural trends, historical context (historic sports moments), the artist's pedigree, and/or how he/she obtained their level of expertise, among other factors. Artists with strong reputations, craftsmanship, ingenuity, marketing and customer service will retain value, earn high prices and have repeat customers.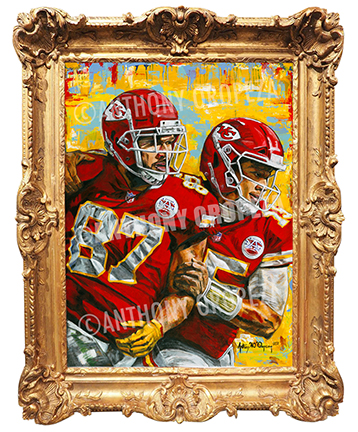 Be a Part of the Artist's History
With that said, I believe purchasing/investing in any kind of original artwork could potentially provide sports fans, artist fans and investors alike with solid financial returns while also granting them the chance to collect valuable and unique pieces of historic artwork – historic to the culture and the life of the artist. To maximize investment success, it is vital to buy at the right time and choose carefully the artworks and artists that will deliver the best returns. On the flip side, and most importantly to me as an art lover and creator, if the art work strikes you, provokes a feeling or just looks cool, that should be reason enough for the purchase and to make it your own.  It should move you. I have been lucky enough to have personally been told a few times from visitors at my shows, "I am not a sports fan at all, but I really really like your work".  Which to me, is one of the nicest things a non-sports lover can say.
So, when considering that special original piece or collection of pieces, you should not only view it as just a financial investment but as an opportunity to own a part of culture, sports history, exceptional creativity,  craftsmanship and part of the artist's history.
Thank you for reading and keep creating.
---
*Note: There is no guarantee that any piece of art from an emerging/not-established/non-famous artist will produce a return of any kind.  Purchase and invest wisely.

https://www.artelier.com/post/how-to-invest-in-art-for-beginners-why-art-is-a-good-investment-in-2022