An Artist's Vision
by ao-Aug 2023
Preface: So,

 

if you are a seasoned artist, rookie or perhaps an older artist that started, stopped, started, stopped and started again at the age of 40-something (like me), and you are interested in a few thoughts and things learned from an artist that has been around the block a few times and has finally found a small amount of success, then you are in the right spot.

 

This month, and the coming months, I would like to share what I have learned, experienced and what I still struggle with as a creative in our smaller and more connected world.*  (*Note – Not a trained writer.  Forgive the mess with grammar, spelling, punctuation, etc.)
My name is Anthony "AO' Oropeza, I am Creative in Training – so, don't touch that dial here we go …
---
"Cut me Mick. Cut Me."
If you are as big of a Rocky fan as I am then you will recognize the Rocky movie lines played by the great Slyvester (Sly) Stallone, "I can't see nothing. You gotta open my eye. Cut me, Mick. Go ahead, cut me."  These lines were delivered after the great Apollo Creed in the 14th round (an awesome scene) gave Rocky's right eye a pounding with lefts jabs and right crosses and eventually a knock down.  Of course Rocky, against his trainers demand, got up to finish the round and eventually the fight.
Well, I almost said the same line to an eye surgeon a couple months back (June 2023). Actually it would have been something like "I can't see very well out of eye.  Poke me in the eye, Doc. Poke, me." And yes, ironically, it was the same side eye Rocky had problems with in Rocky II (see second clip) – but our injuries were due to much different types of situations and I was not subjected to the same type of eye test his trainer gave him (keep reading).
It all started about 5-6 days before Monday, June 19th (a signifcant date). A portion of my right eye started to blur and there was a circular brown see-through film  like haze creeping from the nose side of my right eye almost daily. Like most of us, I thought, maybe it would go away in a few days or if it didn't change much I would explain it to my eye doc at my next visit in few weeks and he's prescribe some eyedrops or something. But the "film" started to get bigger slowly. Then, on the morning of Saturday, June 17, on my way home from a work function, the film in the eye grew a bit more and then sections of objects started to look wavy, like some crazy psychedelic 70's B movie. I knew then I had to get it looked at – and fast.
Luckily, my doc's office was open on Saturday til about 1pm. First call to his office I made was to see if there were any cancellations. None. I ended the call. Then after a few more miles, I thought, "No, I need to get in. I'll tell them its an emergency and explain the situation this time." I called back, explained my vision issues and they said, "Be here in 20 min." So me and my 1.5 worth of good vision were on our way. Twenty minutes later – I'm in the doc's examination room sitting in the various chairs taking the various tests needed to examine my eye.
"This is Not Good."
After all the tests – my doc, whom I have known for at least the past 8-10 years, who is a bit of a fan of the work, and who has always been is a great guy, sat down next to me and said in an honest matter of fact way – "Ok, I'm gonna be honest with you, this is not good." He also added something to the effect, "That brown film you see is your retina detaching. This is not good. You need surgery. Like today, surgery." And I could see and feel a high level of concern and stress in his voice and face. And I responded surprisingly calmer than I thought I would, I said, "Ok, Doc. So how do we do this? What's the plan?"
He stepped out and made a call to the surgeon he thought might be able to get me in asap. I made a call to my most important loved one and explained the situation – that my eye ball might be going under the knife, laser, needle, whatever, I was not sure if I was going to lose all sight or what, but I may be going to the hospital in a matter of minutes or hours.
This is not good. You need surgery. Like today, surgery.
At that moment, for me, I needed to convey a plan I had in my head. I needed to convey how we, as a team, where going to proceed in the next couple hours if I had to go under. Then we would deal with everything else after.
The thing I didn't need at that time were tears. I got tears, initially. Bless her heart. But I didn't have much time – I thought. After a second of getting her focused, she was on board and ready to do whatever needed to help. Then, I explained my plan and to be ready for whatever might happen when my doctor came back in.
The Slap in the Face
After my call, while sitting in the chair thinking about the fate of my eye, the thought of not doing what I love (designing & sports painting) was a bit of a shot to the gut. And out of nowhere, for whatever goofy reason, my situation reminded me of the scene in Rocky II where Rocky and Mickey where in the stairwell of Mickey's crappy apartment building, and Rocky was wanting to fight again and Mickey said it was not a good idea. Rocky then responds, I spent my whole life getting a career, and I get one, and now you tell me it's over…" What luck – for Rock and me.
Fate is funny sometimes – like Rock (his friends call him Rock) I feel like I have worked my butt off over for the past 10-12 years building this small sports painting business and I have accumulated an awesome list of great clients, associates and small personal achievements and now fate is telling me you might have to close up shop or at minimum scale it back and that the work you love may now become a bit tougher or may have to stop all together.
And if you have ever seen that scene (see below) Rocky gets slapped by Mickey as Mickey attempts to prove to Rocky that he should not go back into the ring – just to let you know, neither of the docs did anything of the sort to me – now back in the day, my mom would have probably given me a similar Mickey-type of eye exam, but that's a whole different story and issues.  Nevertheless, for the record, both of my docs did not, and I would never go to my mom for en eye exam (Love you mom.).
So, minutes later, the doc came back into the room and said the surgeon he wanted me to see said my eye would hold until Monday morning. He instructed that I show up at his office for addition tests and then they will schedule me for my re-attachment surgery later that day (June 19th).
He then, before I left my doc's office, stressed, a bit like Mickey would to Rocky – he said, "Listen, do not miss this appointment on Monday. Any delay in this procedure could lead to losing all sight in that eye. Do not get in a car wreck (like I have control over that) do not work out (darn, thats where I was headed before I made the dr. call), play sports (ok – sore back and hip will not allow it), get in a fight or pick a fight (Wow. Really?), or anything physical at all (Great!). I said, "I got it doc. No worries. I'll be there Monday and lay low …"
Why Me?
So between the moment my doc said, "This is not good and you are going to need surgery, like today…", and moment I was knocked out on the operating table, so many thoughts and scenarios of how I would possibly function after the surgery if it went bad. I thought about losing my 9-5'er, and if I'd be able to continue to create my sports art work with just one eye.
A ton more thoughts crossed my mind like "How is this going the effect my client's commission work? Will I be able to paint well enough to complete the current projects and will I be able to accept additional projects down the road?
And the same answer came across every time I asked myself those questions – Could I have controlled it from detaching? If not, (which the answer was "no"), then all I could do is deal with what I can control and what comes my way – when it comes your way. So I contacted my boss to let her know the situation, told some family and got some things in order at home to prepare for the recovery part.
The What If's
Even though I kept a pretty cool demeanor inside myself throughout the whole ordeal and a decent level of  belief that everything would work out, do not get me wrong, I had quite a few "what if's" crossed my mind that weekend.
What if's like – what if I did lose my right eye's sight? What other new nick-names would my friends and family start calling me? And I know they would – names like Popeye, Left Eye (from TLC), Kirby Puckett (RIP), Nick Fury, the list would go on forever.
And of course I would not be surprised if my friend and family would have asked that if I did go blind – would my paintings be worth more? Then maybe they might consider buying one (they still wouldn't). The good and bad of it all is that I work so much, so I do not get see the majority of my family as much as I wish I could – and most of the jokes and jabs are all in good fun.
Nevertheless, eventually the hard core questions popped in – what if by a fluke, I lose both eyes? What if he finds I have an incurable eye disease that is attacking both eyes? The scariest what if was what if I never get to see the faces of my loved ones – most importantly, the face of my daughter and her awesome smile – especially when she laughs. And yes, what if I was not able to see my daughter's face covered in attitude as she rolls those beautiful eye's with dissatisfaction due to her dad's remarks, rules or sarcastic truth? In all honesty, I would definitely miss all that and more.
What if I never get to see people smile over my goofy jokes and sarcastic remarks, and I do make a ton of them. What if I never see the faces of my future grand kids? What if I never get to see the master's work in Italy, Spain, California or New York? What if I never get to create that great master piece or never get that great commission all us sports artists want? What if? What if? What if? The list went on for a while. Then I had to pull myself out of that rabbit hole pretty fast.
I Took a Turn to Gratitude
After all of those 2 million "What ifs?" that kept crossing my mind starting that Saturday afternoon, and with the over thinking of losing my eyesight in my right eye, I had to bring myself back to neutral. I had to tell myself, "Things could be a lot worse, AO. You'll figure it out. You usually do some way. And we'll be OK". Then I had to be even more honest with myself – no one has passed away – in the scheme of things – its just an eye – it could be worse. So you just have to push on and not quit.
And if you know me personally, things in my world, especially the past 3-4 years, have been much worse for me and my family. So, I try to always think to myself – similar to when I first "re-started" my freelance sports art career some10-plus years ago – when I was broke as a joke and living paycheck to paycheck – There is a lot I should be thankful for – there is a lot of good I have in my world (and then I go over my list of the good things – friends, family, teachers, places I have been, people I have met, experiences, clients, projects, etc.,) and then I tell myself – just breathe – and do not quit.
Surgery Day
Monday morning, June 19, I attended the Dr. office. Got a the pre-op examination – then a few hours later I made my way to the hospital for surgery. I was also instructed days before not to eat anything all day. A self proclaimed foodie, I actually had no problem not eating – my appetite was at about zero all day mainly due to the thought of getting a needle or something else poked in my eye. So, at 1:30/2:00 PM that day, with no food – I was still good to go and eager to get this thing started.
Soon I was in a gown, on my back, prepped for surgery and comforted by a very nice nurse. The doc later dropped in to assure me it was going to be ok. I said a few jokes to ease the tension in the room, got the dose of meds that knocked me and off to la la land.
After about 1 hour, which felt like 10 mins, I was woken up and soon wheeled out to the car and back home to heal up. Doc told my kiddo that he saw the possible source of the problem (some kind of scar tissue that had been in there for10 plus years) but he got it all out. Now it was up to the gas bubble he put in the eye to press the retina back into place and let it do the work of healing me up for the next 8 weeks or so. I came home with a patch over my eye and instructed to keep water out of for a while and various other instructions. (Below: Minutes after surgery)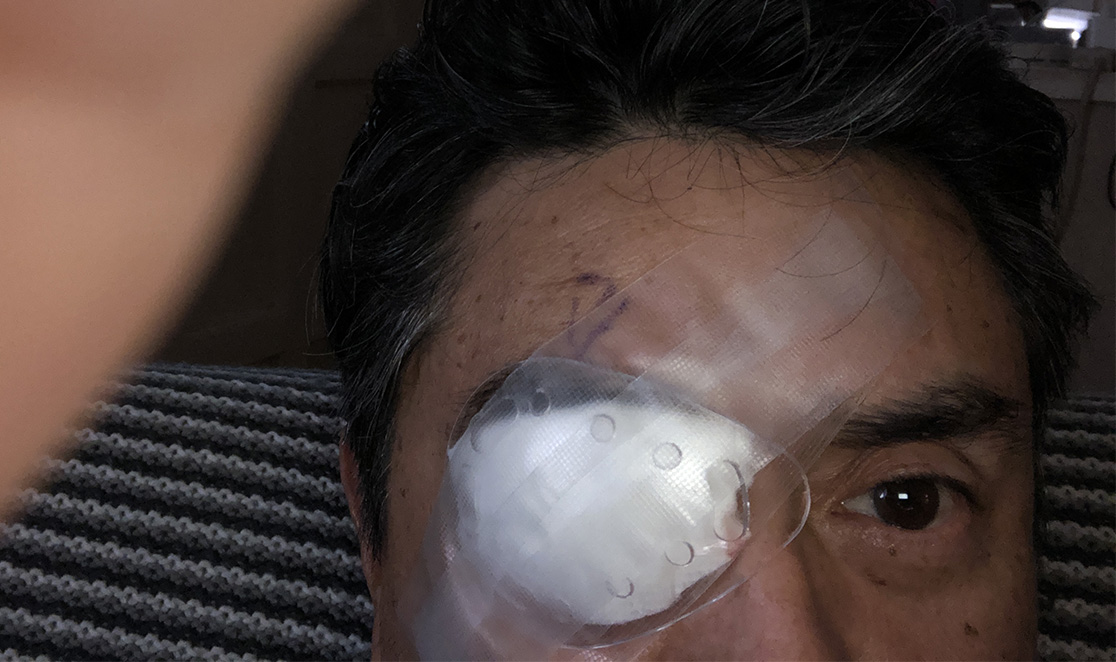 The Projects During and After
While on the mend from the surgery, required to rest and required to do absolutely nothing and to go absolutely nowhere for the first four-five days, all I could think about were three things – I actually did not think about things like – would my insurance cover the operation, who would drive me around at night, or how many new Netflix and Disney+ shows will I be able to catch up on? All of those things were handled from the start – thankfully. I actually thought about how soon could I get back to work. The doc said he'd see me in two weeks and he'd tell me then
Well, with the doctor's orders to stay home for a minimum of two weeks and not to lift much of anything the first couple weeks.  So I asked if I could do small things around the house like read, watch TV, paint, draw, walk, prepare food, laundry, etc. He gave the green light on most but I had to keep it to a minimum and then let my eye rest – so I did. I didn't push any of it. A little here, a little there, rest – then repeat. The most important thing for me was to keep the stresses of life at bay and to a minimum so I could heal as fast as possible.
Once my ten days were up, and the doc said I could go back to my 9-5'er, I knew I could hit the easel a bit harder as well. And with that green light, I could not wait to get back to it and make up for lost time. Needless to say, I knocked out my project that was on hold and started the next one asap.
Two Months Later
Now, it has been a couple months (August 2023) since the surgery and I am still on the mend with the bubble in my eye but it should be breaking apart into tiny bubbles soon and then eventually disintegrate and be gone forever (finger crossed). Then I'll have to deal with possible glaucoma issues and see what else after that. But from what I can see (literally see), even with the bubble in my eye, there is a huge improvement in the clearness of vision in my right eye.
Gift Horse in the Mouth
"You never look a gift horse in the mouth", is the saying. Not exactly sure what that means (I know, I can probably look it up), but I believe it might have to do with be thankful for the gift that is presented to you. And my gift, actually one of my gifts in this life – is the gift of sight. I do not plan on starting a boxing career and asking a trainer to train me like Rocky did with Mickey after that horrible beating he took from Apollo Creed, but I do intend to get back into my art world ring and get back at it.
And I may not have an Adrian like Rocky did, but I do have stuff I learned during this ordeal and previous ones to help keep me motivated. I am grateful for those who were there before, during and after the surgery. I am grateful to the docs and nurses that helped me on the path to regaining my sight. Grateful to have employment to return to – office and at the easel. Grateful for family that checked in on me. Grateful to friends who helped get my car back on the road when it broke down during my time off. Grateful to be on the road to regaining as much of my sight in that eye as possible.  Grateful for my clients for understanding the unforeseen delay. So thankful for my kiddo who kicked in and was there every minute and took care of what needed to be handled – driving me places, meals, post doc visits, and more.  I am also extremely grateful and never taking for granted how precious my eyes are and how precious life is – especially as an artists and even more so as a dad.
Get Up Off the Canvas
And with that all said, like many of us, artist or non-artist, we all have to take the good with the bad and life sometimes sucks. And growing up I have never been the best or even really really good at anything – sports, books, art, music, good sibling, good son, friend – nothing, but I have always tried.  And as I got older, I have tried to become better in many of those areas and now as a father – even though I am not the best at any of them still – I do not plan on quitting.
Now as an artist, with the way this world and business can punch you around (pun intended) some of us have to pick ourselves up off the canvas multiple times a day.  So we have to keep fighting (yes, another one)  for our craft, out time and everything else involved with our work.
So, we cannot quit. We may not become champions of the world like Rocky, Apollo Creed or Clubber Lang (Mr. T in Rocky III) and we may lose a number of rounds in the fight  (last one) – but sometimes we can become champs of the moment or even the day. Just keep pushing forward, keep learning, keep creating, stay healthy and no matter what – do your best not to quit.
Thanks for reading – and as Sly (aka Rocky) says, "Keep punching." – more soon.
ao
(PS – If you have never seen Rocky – give it a try.)