Bobby Bell
By Anthony "AO" Oropeza
2023 / Media: Acrylic & Mixed Media / Surface: Wood / Size: 24″ x 36″
Original: Sold
The "Bobby Bell" HOF 40th Anniversary – an AO Original
"The harder you work, the luckier you get." – is one of those sayings that keeps reoccurring on a regular basis in Anthony AO Oropeza's mind, one of KC's premier sports painters. He'll be the first to tell you, he has just as many ups and downs in his life as the next person, but focusing on is art work daily makes more positive artistic things happen more often than not.
This past May (2023) was another one of those times where AO felt like a lucky artist. "I feel lucky every time I get a commission from anyone, there is no doubt about that …", says Oropeza, "… and it is the same with every piece.  It is always an honor to paint someone that is special to my client." In this case, the special person to AO's client was a NFL Hall of Fame inductee – the notorious #87 Mr. Bobby Bell.  The client – The Kansas City Chiefs.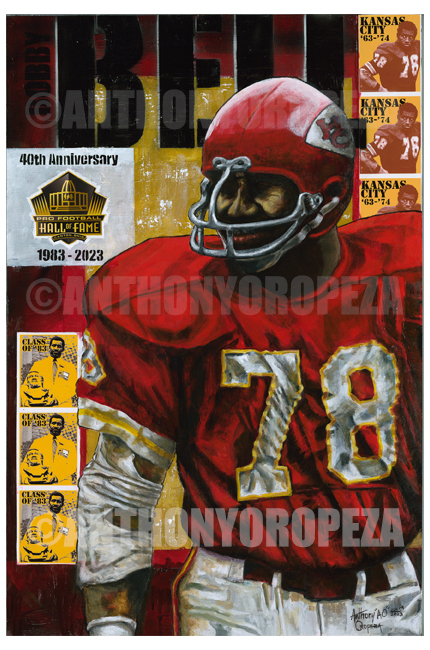 Creating a Piece of a Chiefs NFL Hall of Fame Inductee
AO was commissioned by the Kansas City Chiefs to create a piece for the 1983 Hall of Fame inductee for his 40th anniversary induction into the NFL Hall of Fame. The piece was to be presented to Mr. Bell in Canton, OH during the weekend of the 2023 NFL Hall of Fame induction.
After working with the Chiefs in late 2021 (Game Day Poster painting design of Christian Okay), the Chiefs felt AO's gritty and realistic style of sports painting would be perfect for an anniversary gift for this accomplished, respected and gritty Kansas City football great.
This 24″x36″ mixed media piece on wood is a piece for that not only a Hall of Fame inductee can love, but an organization presenting it can be proud of as well.  The AO Original has his trademarked gritty and raw textures as well as his realistic dirt and grass stained uniform that makes you believe you can reach out and touch the material.  The peice also incorporates images of Mr. Bells on the field in uniform as well as an image of him in his yellow jacket holding his sculpted bust that will sit in Canton, OH forever.
"It always floors me how much people like my work because 7-8 years ago I couldn't give my work away.  Now, they are traveling from out of state to pick it up.  I am so honored and grateful.", say AO.
Pursuing Professionalism and a High Level of Work
Since AO took up the sports painting paint brush again in 2013, he has set out to create a high level of work, and set out to be a professional artist in an area (Kansas City) where there are many talented sports artist. "Its a true honor when an organization like the Kansas City Chiefs trust your work and believes in your professionalism enough to give you a project that is to be a gift for one of the greatest that have ever stepped on the gridiron and creating a piece for a Hall of Famer like Mr. Bobby Bell is one of those top level bullet points in my sport painting career.", says, AO.
There is no stopping AO's pursuit for top level art and design. Even though he maintains a full-time job, he works diligently evenings and weekends to hone his craft and to be prepared for the next commission that comes his way. "It doesn't matter if it is a portrait, a high school, college or a hall of fame pro athlete, just like in sports, I am gonna do my best to give them the best every time.", says AO.
Keep an eye on his work via his social media channels or contact him about you very own AO Original.
Follow progression pics, event updates and videos on AO's social media channels – FB / Insta / Twitter /YouTube.
——-
Interested In Your Own Original?
Interested in purchasing this piece or commissioning your own original, please contact the AOART5 Studio.