"Kelce, Mahomes & Hill"
By Anthony "AO" Oropeza
2022 / Media: Acrylic & Mixed Media / Surface: Wood / Size: 36″ x 48″
Original: Sold
The "Kelce, Mahomes & Hill" – an AO Original
Another AO Original and another retirement gift in the form of a custom commission piece. The "Kelce, Mahomes & Hill" is one of three pieces created for three different clients who are some of the biggest Chiefs fans in Chiefs Kingdom that AO has ever met.  And for AO, it was quite an honor to create such a piece for such a lifetime achievement.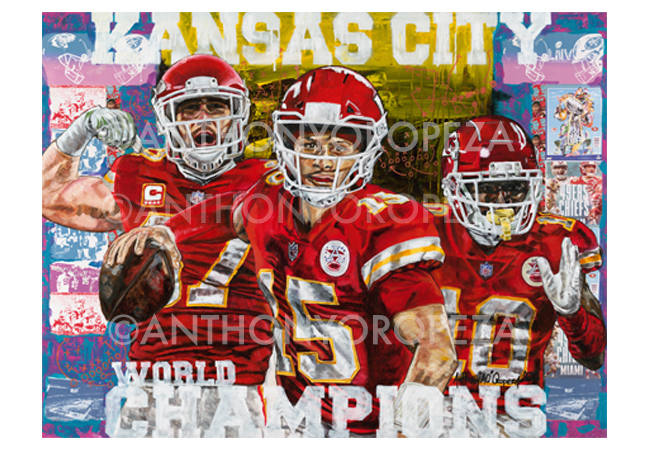 An AO Original – A Retirement Gift Like No Other
Per AO, "This 36×48 piece was created by working closely with the client and if it were not for her great ideas and her trust in me, not only as a painter, but as a designer, this piece would have never been as nice as it ended up being. "  This a piece featuring three KC Chief's – Travis Kelce, Patrick Mahomes II and Tyreek Hill, is a dynamic and multi-layered piece with just as much, if not more, energy throughout the piece as only AO can deliver.
In late 2021 AO received a call from a wife of a huge KC Chiefs fan.  She asked if AO would consider creating a piece for her husband (a current client) for his retirement.  AO could not say "no".
"A retirement painting is no joke.  It says to me that the client trust me enough to deliver a solid piece that they believe the recipient will absolutely love.  All I have to do is come through.", say AO.
Once AO and the client met, she answered a few questions, and the thoughts and ideas came flowing.  The client informed AO that she wanted to incorporate her husbands three favorite players on the Chiefs team – so AO researched for multiple references and selected three that fit just right for the piece.  Once the client approved, AO prepped to get to work.
Once AO started the project with a great mock up, the client approved it, and then the brush and paint were able to hit the wood surface.  And like every painting,  AO let the paint and brushes work the magic.  AO lets the complimentary elements of the piece like imagery, typography, graphics and the color of the uniforms help him decide what background colors might work alongside those elements.  And with this piece, AO's trademark raw and gritty textures compliments well with the pieces balance, variety, players and structure.
When the painting was complete, the new owner was brought to the studio and the piece was unveiled to him and as his eyed lit up and his smiled widened, you couldn't avoid the feeling of love he had for his new AO Original for his collection.
Limited edition prints coming soon for this piece, visit the AOART5 Store for the latest.
Get the Latest via AOART5 Social Media – Follow Today!
Get the latest behind the scenes looks, WIPs videos & pics and cool shots of the many paintings and art and design projects AO has going. AOART5 is at:  FB / Insta / Twitter.
Commission Your Own AO Original?
With AO only able to create a limited number of originals per year, now is the time to get your name on the AO Project List for your very own AO Original.  Visit our Commissions page for commission details or our Contact Page to ask AO any questions and/or to schedule a visit to the AOART5 Studio in beautiful downtown Overland Park, KS.