The "Okoye"
By Anthony "AO" Oropeza
Media: Mixed Media / Surface: Canvas / Size: 2'x 3′
Original – Sold
AO Selected to by the KC Chiefs to Create: The "Okoye"
In November of 2021 AO received a call from Chiefs Creative Services & Brand Manager, Jordan Giesler, and was informed that he was selectyed by the Chiefs Kingdom, via Twitter, as one of the artist to create a game poster for the Kansas City Chiefs Kingdom Poster Series. 
The Kingdom Poster Series is a Chiefs tradition in which they select artists (local and across the country) to design unique posters that highlight each game matchup the Chiefs face during the season. Each poster is limited-edition (500) and uniquely numbered with 100% of the net proceeds donated to local charities that help positively impact the Kansas City community.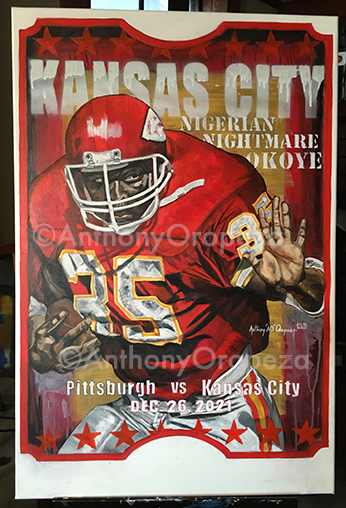 Poster Print Created for Dec. 26 Game vs. Steelers – Featuring Christian Okoye
Flattered and excited, AO and Jordan took a few days to hammer out a few details.  They eventually finalize that AO's design will be focused around the Chiefs Hall of Fame running back Christian Okoye.
The 24×36 mixed media on canvas features the legendary running back pushing forward gaining yardage for the Chiefs with an AO trademark textured, raw and gritty background.
AO's print of of the "Okoye" will highlight the December 26, 2021 game vs. the Pittsburgh Steelers.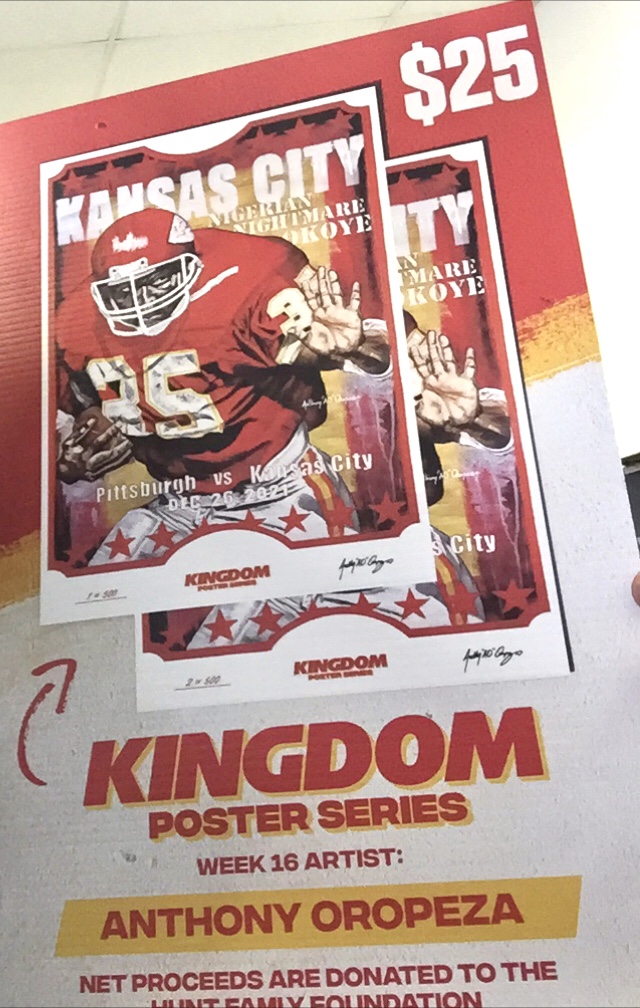 Limited Edition Print ONLY SOLD at Stadium & at KC Chiefs Web Site
The limited edition print (500) includes a printed autograph by AO and is available was available only online at Chiefs.com/posterseries and at the main merch shop in Arrowhead Stadium.  The Chiefs.com/posterserie page indicates the print is SOLD OUT.  Thank you al that appreciate the work.  There may be another Okoye piece of art in the future for AO and the AOART5 Studio.  Stay tuned!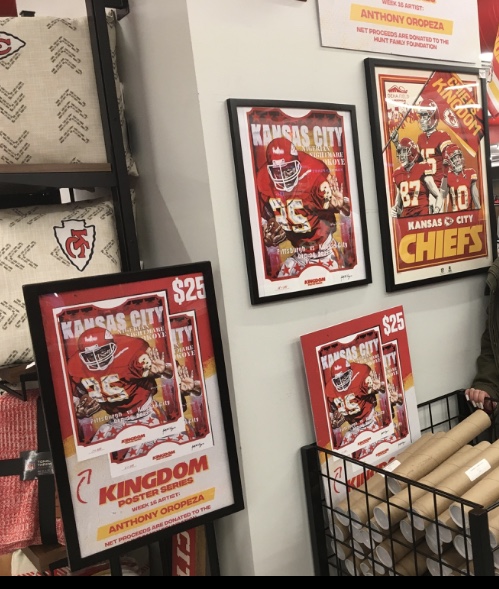 Interested in Your Own Commission
Contact us any time and order your own Okoye original today – although AO has a full list of commissions into the next year, feel free to Contact us any time with any and all questions and get your next original on the AO Project List.