AO Featured Artist on KSHB 41 News
By Dee Jackson / Darrious Smith – KSHB 41 Action News Sports
Jan 2018
AO Sports Art Featured on KSHB 41 Action News
Kansas City designer and artist, AO, was featured on the KSHB Channel 41 News during the Sunday night broadcast as a featured local sports artist.  The broadcast, narrated by sportscaster and new fan, Dee Jackson showcased a number of AO's recent pieces featuring the "Home Town Heros" and 2015 Wold Champs – The Kansas City Royals.
Story: Rejection, Grit and Accomplishments
The piece by Dee Jackson was a great piece on AO's high-level of creativity, capturing the emotion of the subjects on canvas, and how his rejuvenated effort almost never happened. The also piece touches upon how AO was rejected to advance in art school years back (1992), but was inspired by the 2013 Kansas City Royals and decided to make a serious dedicated effort to produce high quality art with a purpose

Follow-Up… Emmy Winning Story
AO is happy to post, that in September 2018, Dee Jackson (reporter) and Darrius Smith (camera) won an Emmy for this story. Congrats to Dee and Darrious for their good work and for asking AO to showcase his work. Best of luck to Dee and Darrious in their future endeavors.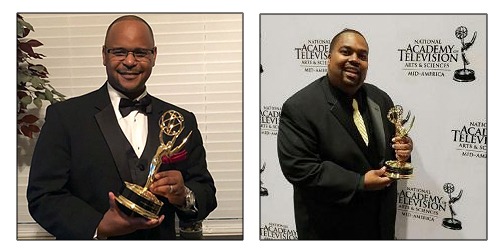 Interested in Your Own Commission or Print
Order your own original today – Contact us with any questions.