Strike Out Slavery – Logo Design
AO and AOART5 were asked by philanthropist Deidre Puljols. She was looking for a logo for yet another new foundation. This amazing woman was starting an organization for an extremely remarkable cause named "Strike Out Slavery". She is on a mission to stop human slavery, and she wanted our help to create a logo for your project.
Objective: Create a cool meaningful logo for Strike Out Slavery with a baseball design for a new foundation that will be helping, empowering and giving others a second chance at life.
Requirements: Think baseball. Think slavery. world, strength and empowerment (the comic book element is due to her of Wonder Woman).
So a number of preliminary sketches and ideas were exchanged working closely Deidre, and a final was submitted. She then took our final logo, and in Deidre Pujols fashion, she worked with her team in L.A. and the design was tweaked a bit to an amazing final logo.
About Strike Out Slavery
STRIKE OUT SLAVERY was created by Albert and Deidre Pujols with the goal of raising awareness about the existence of modern-day slavery and rising funds for major organizations fighting this insidious crime internationally.

The logo was then modified in a few ways (see various images) and made to adapt to various branding and marketing situations: web, invitations, clothing, banners, and more!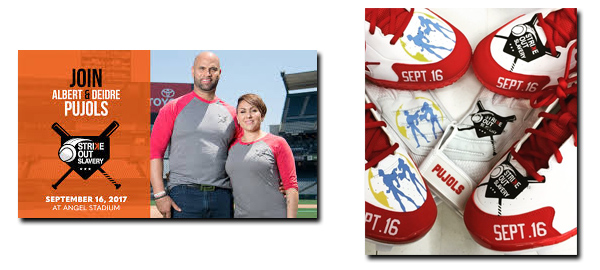 Then the Albert Pujols and Nick Jonas Effect
Being part of a design/project that not only is for a great cause, like Strike Out Slavery,but having big-time players like Albert Pujols and Nick Jonas wear our logo, is one of the coolest things about designing this logo. Having those two powerhouses, along with Deidre leading the way, gives great exposure to the cause, our logo, and to the branding of the organization.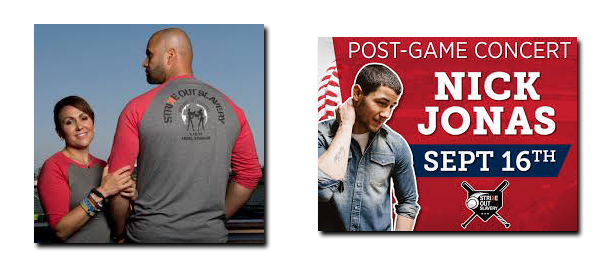 Working With Great Clients and Their Causes
For the second time, it was a huge pleasure to work with an awesome person for an awesome cause. We were so honored to work with Deidre, as she again, gave us freedom of creativity, then once she started seeing something she liked, she worked on it with us to make it better. She ultimately, combined our design (the inside part of the design) and she treated the outside of the design with a portion of what she had previously had designed in L.A.. In the end, it turned out to be a logo she loved. Check out her site and join the cause at StrikeOutSlavery.com