AO's 2nd ANNUAL OPENING DAY-WEEKEND FIRST FRIDAY ART EXHIBIT (Rescheduled from April)
May 5, 2017 – 5:30 – 9:30pm
Come Check Out Sports Art and Enjoy Tacos at May's First Friday with KC's Sports Artist AO!
ROYALS FANS, ART LOVERS & SPORTS LOVERS:
COME MEET AND HANG OUT WITH AO & CHECKOUT HIS LATEST ORIGINAL SPORTS ART
AT THIS ONE NIGHT ONLY SHOW!
Love art?  Lover the Royals?  Love Tacos? Well there will be all of those at a local eatery right off the CrossRoads District.  The exhibit will be the fourth for KC sports artist, Anthony "AO" Oropeza, featuring his most recent sports pieces – including his latest Royals work.
ABOUT THE EVENT:
This one-night only exhibit is a celebration of art, the Royals and a tribute to Yordano Ventura – Featuring AO's latest of the Royals young talented phenom.
Come meet fellow art and loyal Royals fans for an arts night/pre-game exhibit and  chat with the artist about his work, style and future works he plans to create.
ART WORK THAT WILL BE ON DISPLAY:
AO will have on display art featuring players from the 2015 World Series Team like Royals greats: Eric Hosmer, Salvador Perez,  Yordano Ventura, Danny Duffy, Lorenzo Cain and Mike Moustakas.
ART, TACOS and SPECIAL SURPRISES:
As the art exhibit gets closer, AO will add cool surprises for those that will be attending.  What will those surprises be? Follow us on AO's FaceBook page and get the updates first!
WIN AN"ERIC HOSMER" PRINT
Autographed by AO
To show appreciation for those who attend AO's 2nd Annual Home Opening Day-Weekend – First Friday Event, AO will be offering all who attend the chance to win a 3′ x 2′ Special Edition Print – of his Eric Hosmer original with proceeds going to purchase comic books and other learningmaterial for local students during his school visits.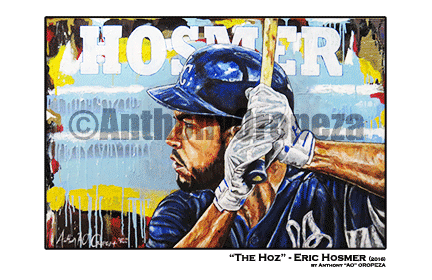 AO's love for sports, baseball and the Royals has inspired him to continue his Royals original artwork.
WIN A "DANNY DUFFY" PRINT for Noah's Bandage Project
Autographed by AO
Also, to show additional appreciation for those who attend his 2nd Annual Home Opener-Weekend – First Friday Event, AO will be offering all guests the chance to win a 3′ x 2′ Special Edition Print – of his Danny Duffy original with proceeds going to the Noah's Bandage Project .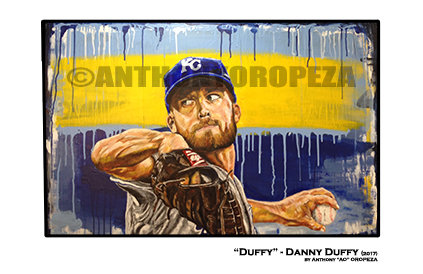 Plus: AO's AMIGOMAN and Other Comic Book Art & Prints Will Be Available
Love Comic Books? Well AO will also have his AMIGOMAN and other comic book art on display with books and art available to view and purchase.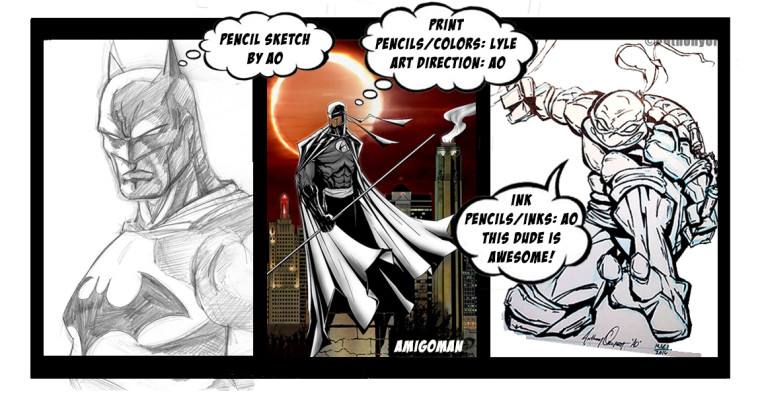 Venue:
Ricos Tacos Lupe – 802 SW Blvd. KCMO
MORE UPDATES COMING:
Keep an eye / bookmark our page and check back with us for our updates.
Get your Own AO Original or Book a Visit
You will also have the opportunity to chat with AO about purchasing your own original painting of your favorite athlete.
AO is also available for school or organization visits to discuss his work.
For more information about getting your own AO Original or a school/organization, visit our Ordering page or if you have a question, please visit our Contact page.