AO's Sports Art on Display at Kaufman Stadium , Sunday, Aug 7th, 2016, 11:30 am
ROYALS FANS GET A CHANCE TO VIEW ORIGINAL AO ART & MEET THE ARTIST AT  THE "K"
All Royals fans and visitors at the K (Kaufman Stadium), home of the Kansas City Royals, on August 7th starting at 11:30 am, will have an opportunity to  pick-up FREE coloring pages inspired by your hometown sports artist –  Anthony "AO" Oropeza.  Fans will also be able to view a portion his Royals sports art collection.  [Press Release]
If you love the Royals and if you love sports art and coloring, this section of the ball park is where you want to be for your pre-game warm-up.  All visitors are welcome to come grab a couple FREE Royals inspired coloring pages and meet and chat with the artist that not only painted the artwork but created the coloring pages based off the paintings!
Fans are also welcome to inquired about his art process, his coloring page designing,  obtaining there very own original piece of their favorite athlete.  It will be quite a day at The "K"!
COLORING PAGE EXAMPLES THAT WILL BE AVAILABLE: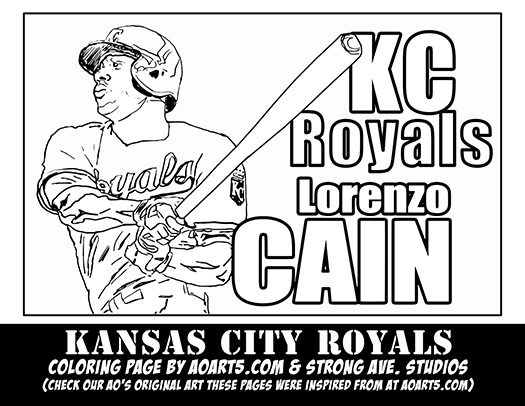 ART THAT WAS DISPLAYED:
Eric Hosmer (WIP) / Lorenzo Cain / Salvador Perez / Mike Moustakas
Alex Gordon (WIP) / Chipper Jones / Roberto Clemente (WIP)
Images from 2015 Night at the K
ABOUT ARTsKC:
ARTsKC and The KansasCity Royals will host booths for area arts and lifestyle organizations for this awesome event.  ARTsKC is a Kansas City based organization that promotes, supports and advocates for the arts.  They are a nonprofit organization serving the five-county region- Clay, Platte and Jackson in Missouri; Johnson and Wyandotte in Kansas.
GET YOUR OWN AO ORIGINAL:
For more information about getting your own AO Original, visit our Ordering page or if you have a question, please visit our Contact page .