"Bird Watching"
by contributing writer – Catalina Melgoza  (July 2019)

In May of 2019, AO finished another extraordinary original titled "Bird" after Boston Celtic's great, Larry Bird. This 2″ x 3″ mixed media (acrylic and paper) was a first-time commission piece for a huge Boston Celtic's basketball team, and even bigger, Larry Bird fan.  The new owner of this AO original resides in Newton, Kansas.
Like many of AO's pieces, this piece has multiple levels of depth. One level includes imagery of the Celtic's multiple championship (17) banners located in the rafters of the arena.  Another is of the coaching mastermind, Red Aurbach, smoking his cigar with that trademark grin. Other images include the back of Bird's warm up with his name on it, and the final is a small hint of the beloved (and hated) Celtic's logo – all of this comes together, with the focal piece (Bird shooting a jump shot), on the  2'x3' wood panel, as one beautifully designed painting.
"Sports fan or not, my hope was that when looking at this piece they would get a feeling that they were right there in that moment.  I wanted the facial expression to give a feeling that this particular shot is a crucial one, even though I get the impression every shot Bird put up he felt is was a crucial one.  Nevertheless, that's the feeling I wanted the viewer to feel", says AO.
"Just like Larry Bird, my husband is a hard-working man and that is what the piece helps represent, other than our love for Bird. That is why I wanted the piece done for him," says Carolyn.
With three NBA championships, two Finals MVPs and 12 All-Star appearances, Larry Bird was at his prime with the Boston Celtics in the 1980's. He was a star, people loved his talent and his epic battles with the Lakers and the Sixers. That included people such as Carolyn and Kenny Kornelson.
Carolyn and Kenny began dating in the 80's around the same time Bird was becoming a bit of a household name. They would spend a majority of their time together watching Bird on the court.
Watching Bird eventually led them to becoming Celtics fans. They have visited the TD Garden arena in Boston a few times for Celtics games and have done tours at the arena. They even named their dog "L.J.", after Larry Joe Bird.
Carolyn heard of AO's work through her daughter middle-to-late 2018. They decided to visit the AOART5 website one day, and like many visitors to his site, they fell in love with his raw, life-like artistic style, and portfolio of work. With Kenny's 60th birthday approaching and after seeing AO's work, Carolyn came up with the perfect gift idea to surprise her husband –  an AO original.  AO was then given the honor to create something spectacular of the Celtic's great for one of his biggest fans.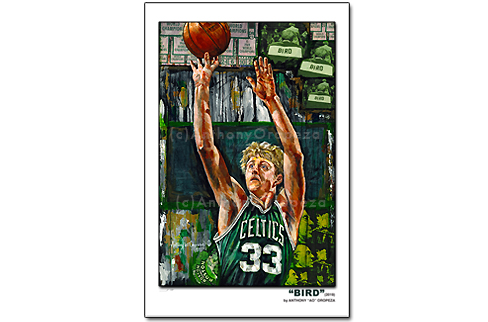 "Just like Larry Bird, my husband is a hard-working man and that is what the piece helps represent, other than our love for Bird. That is why I wanted the piece done for him," says Carolyn.
They rarely buy art work, but AO's work made them think twice about it. Carolyn and Kenny now own a piece of AO's art work. The "Bird" piece is currently hanging up in Kenny's man cave as the center piece for everyone to see when they walk into the room.
"What I really like about the piece are the details and the other elements it includes. AO included everything Celtics and not just Bird himself. He really brought it all together," says Carolyn.
This is not the first time AO has done something special for a client, but he was, of course, very honored to be considered to create such a piece that was presented as a gift for a special occasion.
"All projects are very special to me, but when the work is created to be given as a gift – for a birthday, an anniversary, a passed loved one, or even a milestone like the 600th home run of a MLB future Hall of Famer (see the Albert Pujols piece) – it has an even deeper feeling because it's a gift from the heart and the client understands that there are not many AO originals around."
Keep an Eye on AOART5.com
With limited AO original owners, and about 2-3 art exhibits displayed throughout the year, keep an eye on the AOART5.com website for future exhibits or appearances, and if interested in your own AO original.
Limited edition prints of the "Bird" are available – visit the STORE
Contact him via the contact page or social media – (FaceBook / Twitter / Instagram).