Pre note: Writing critics beware … The article you are about to read was written by a really strong "C" student, non-trained writer, and rejected art student all in one – basically a failure in most peoples eyes.  So the content below may not be for you and your high journalistic standards, but don't get me wrong,  I do understand the need for the high level of work quality.  But for me, that comes with time and practice, or a budget to pay a writer.  Unfortunately, I am not there yet.  So please take note, I write this article with the hope that it will be useful to readers who are artists, any artist: painting, graphics, web, comics, ceramics, singing, sculpture, acting, writing, etc. – and especially if they are students, they are entering the field of freelance, or those older artists re-entering the field for the second or twenty second time.  So if you are a critic of some sort, this piece is not for you. So please don't read this. I just want the audience it was intended for, and those who would like to take a peek at my view to read this. I want to hopefully inspire – because for many artist and designers – inspiration does help.  Thanks – ao
My Art in The New York Times – a Look Back – Part 1 of 3
Funny How Things Happen
So it has been a little over a year since I was lucky enough to have my work, the "Mahomes", appear in the New York Times on October 14, 2018 (both the print and web). And as I embark on my next Mahomes original, which will include Chiefs tight end Travis Kelce this time,  I have to say that my interview was one of the coolest, and before it went to print, one of most under-estimated interviews to ever to happen to me.
Actually all interviews are meaningful and impactful, including my interviews with the legendary KC great, Bill Althaus (@althausEJC) with my  2016 in the AOART5 Studio or the 2018 Planet Comicon interview.  And then there is of course my Jan 2018 TV interview with the silky smooth and  Emmy winner (due to my interview with him) Dee Jackson (@deejackson41).
So this Times interview was just as meaningful but a bit more impactful to me as an artist because it was a world wide publication interested in my work as a serious sports artist; two, it was read and viewed by the world; and lastly, it was a paper I never thought possible that they would consider my work at a level worth publishing – at least not yet.
Why didn't I think it possible?  Well, first, where I grew up, most do not think a life in the arts (painting, ceramics, sculpture, etc.) is a way to make a living (it is actually very difficult);  Second, growing up most don't dream about being in the news paper for our work – we just do our work, try to pay our bills, maybe save, and work till the weekend so we can hang out with friends and family; Fourth, I have yet to be in my own local paper (Kansas City Star) for my sports art (I was in The Star back in the 90's for my comic book work so that might count); Fifth, because I don't think most KC artists strive to be in The New York Times, at least I didn't and I never heard of any artist colleagues say that one of their goals was to be in the Times.  And the last reason … it was, as my friends say,  "the 'freak'n' New York Times"!
So this Times interview was just as meaningful but a bit more impactful to me as an artist because it was a world wide publication interested in my work as a serious sports artist.
Now if I was to think about it, I would think in terms of baby steps.  First, maybe I'd be in a small blurb in my old high school newsletter – nope, then maybe a little something in one of my community college papers (I went to two) – nope, then maybe in my college paper – nope, then, eventually, The Star, but … nope.  Again, I have been in The Star, and I was one of my college's publication (shout out Rockhurt University), but those articles were for my comic book work, not my sports paintings.  Nevertheless, I leapfrogged and showed up in the Times – the luck.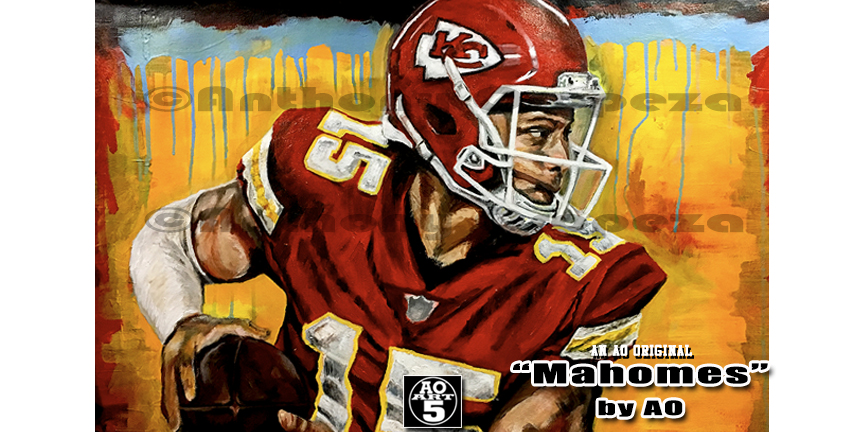 The Luck
So let me set the record straight, I was not "thee" featured artist for the story in The Times article.  The story was not solely about me or my work, but about the KC Chiefs fans and the effect our quarterback Patrick Mahomes and the team's winning record was having on our city.
Let me explain further, the October 18, 2019 article written by Mr. Ben Shpigel of The New York Times, an awesome writer and gentleman, was not a "feature" on me nor my artwork.  The article did include me as a KC artist working on my unfinished original 2'x3′ acrylic on canvas "Mahomes" (2018) piece.  It was my 1st Mahomes piece and was a non-commission piece, which means it did not have a buyer when I created it at the time of the interview. And fun fact, it was started months back in the parking lot of Arrowhead Stadium right before the 1st preseason game.
"Luck is what happens when preparation meets opportunity." – Seneca
The Times article was a piece about KC fans and their love and excitement for their new QB. The interview included words and images of fellow Chiefs fans – highlighting super fans that dress up in top level Chiefs gear and outfits, the best in the business fans and tailgaters, fans that tattoo Chiefs players on their body parts from an outstanding KC tat artist, and yours truly, a no-named artist here in KC working on his first Mahomes piece with hope of maybe selling it to a huge Chiefs fan, and establishing himself as a serious sports artist, or at minimum, if it didn't sell, I would have a pretty cool original (my 1st) Mahomes piece in my place. I already had an Alex Smith piece I completed months before which is one of my favorite pieces – but I knew I had to paint a Mahomes.
Also, I knew selling the piece for what I wanted would be a long shot because other than the last season ('17-'18) game in Denver, Mahomes had never played a pro level game, so no one really knew how good this kid would really be – but he was going to be our new starting QB and we were backing him until he gave us reason otherwise. And beyond my wildest expectations, this kid delivered in spades for his first full season with us.
The thing about luck, which I believe this particular event was about 40% of some kind of luck, is that it happens after a ton of hard work.  Seneca, the Roman philosopher said, "Luck is what happens when preparation meets opportunity." And now I can't argue – its true, my luck hit after about 5 plus years of evening and weekend work, after consistently marketing and branding the work, after hours of creating and working on website content, after scheduling and posting social media content,  after gallons of coffee, after nights of 4-6 hours of sleep, after selling small pieces of work (paintings,  drawings, sketches, graphics, comic books, etc), and after what's most important to my heart – giving back to the community with time and/or work throughout the whole time – all of that made me one lucky person.
Thank You Fatigue – Thank You Twitter
So for the past 4-5 years I have been staying up daily until 12:30-1:00am,  most of the time with an artistic purpose.  I would usually stay up and work and then about every 4-5 days my body would eventually drop about 8:30pm or 9:00pm and I'd sleep until 5 or 6:00am, and feel a bit refreshed, but would lose a night of work, and would be upset at myself.
"Hi Anthony, this is Ben Shpigel with the New York Times … "
Well that's basically what happen on October 3rd & 4th of 2018.  I planned to work on the night of the 3rd after working on a handful of projects, and had my project list ready to attack and knock some work out. Not sure what happen that took me over the edge of the fatigue cliff before I got to the studio – big dinner, house work, the gym, battling the kid about home work, battling the kid's mom about the kid's homework, or a combo of any of them, who knows?  In any case, I crashed early – probably about 8:30 or 9:00pm.
Woke up the next morning about 4:30 – 5:00am – not really happy with myself for falling asleep.  So I got dressed, brushed my teeth, sculpted the lettuce (hair), made some coffee, and headed down to the studio – extremely angry at myself.
It was early, real early, so I figured I'd give a live stream a shot on FB and IG, and see if any early birds were interested in seeing some live work – they weren't having it at 5-6:00am. So I figured I'd shut that down and shoot a bit of video on my phone and post it later.
The footage was nothing to brag about, just me working on the Mohomes piece knocking out some touch-up detail stuff around the helmet and mask area.
Finished that part of my work session about 7:00am and made my way to work soon after.  Posted the video about 8:00 am or so, and about 1:30pm I received a DM on my Twitter account (@aoart5).  It was from Ben Sphigel (@benshpigel).  It said."Hi Anthony, this is Ben Shpigel with the New York Times.  Hope all's well with you.  I'm heading to Kansas City next week to work on a Mahomes-related story and, after seeing your work, I was hoping you'd have a few minutes to chat while I'm in town."
Before I responded I was like, "OK, is this a joke? The Times?  Really? Come on." Then I looked him up.  He was legit. So I messaged him back.  Next thing you know, I'm on the phone with a writer from the Times.
We set something up for the following Tuesday, 9th. And I am always nervous about interviews – whether its a written article by Bill Althaus or TV like Dee Jackson or McKensie Nelson, its always a bit nerve-racking, but I a super honored either way.
So 7:00pm comes and like clockwork,  Mr. Sphigel and a photographer show up to the studio. I am thinking, 'Whoa. He's here". We then exchange pleasantries, we sit down, and we we start a chat about one Mr. Patrick Mahomes …
NEXT … Part 2