About AOART5
Creative and Focused – Out Of KC!
AOART5 is an LLC out of Kansas City.   AOART 5 pursues masterful artistry and design while taking on fun, challenging and creative projects.  AO enjoys producing sports, comic book, character and other genres of art.
AOART5 's goal is to exceeding the client's expectation through an exchange of ideas, communication, planning, design and hard work.
Here's the Kicker
Most of our Creatives work full-time jobs and are called on depending on the project.  We work at night and weekends –  but are definitely deadline driven and – but that is what keeps our prices low.
Our small but resourceful team comes with years of experience and is equipped with a large range of diverse talent.
Location
We DO NOT Have a Studio Building – But We Are A Studio.
No brick and mortar.  No warehouse.  No gallery.  Just a space at the home-studio For meetings, he loves utilizing a small list of KC coffee shops and eateries, so you just might see him around town chatting it up.  Later he'll build the dream Disney-like studio for friends, family and the public to visit, learn and experience some high quality creativity!  But for now, the studio is at home and the address is a PO Box.
Hours of Operation
Nights & Weekends – No Normal Business Hours – No Faking!
AO (and any of his project Creatives) work nights and weekends – ONLY!  He has a steady 9-5'er but enjoys working on other projects in his spare time.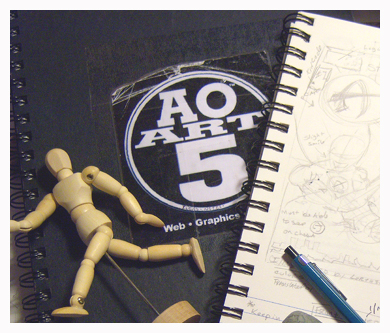 Lead Guy – AO
AO ART 5 was created by Artist/Designer:
Anthony "AO" Oropeza.
With over 20 years of design experience in graphics, web, publishing, storytelling, illustration and painting, AO can deliver a great product for your home, project or campaign.
Contact AOART5 – Get a Quote!
So if you would a quote or to meet and chat about an awesome project – contact AO via email, social media or let's meet in the evening somewhere to see what we can do to make your idea / project even more awesome-er!