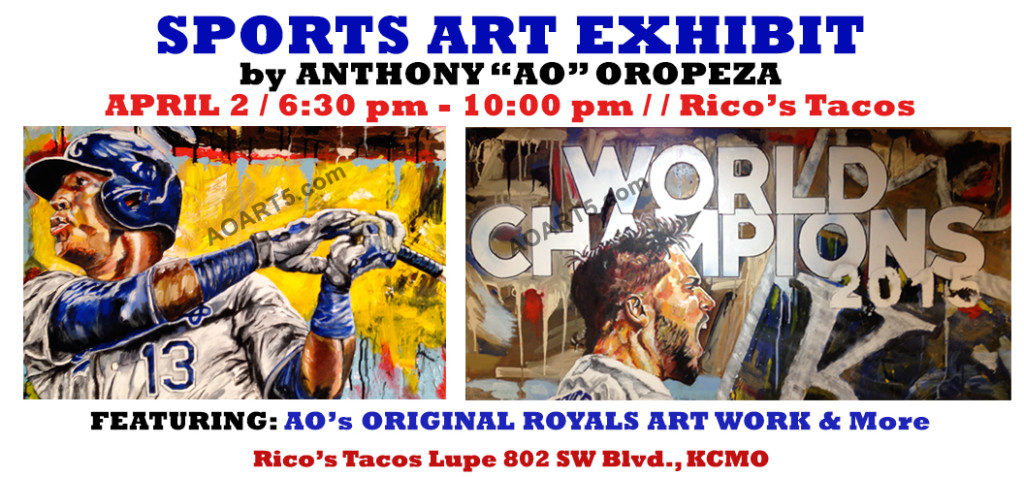 ONE-NIGHT ONLY – Saturday, APRIL 2, 2016!
Come Celebrating KC ROYALS Opening Day (the day before)
with an ART EXHIBIT by AO – Featuring KC Royals!
ROYALS FANS, ART LOVERS and SPORTS LOVERS, COME VIEW ORIGINAL ART & MEET THE ARTIST FOR THIS ONE NIGHT SHOW!
Love art?  Lover the Royals?  Well there will be both at a local eatery right off the CrossRoads District.  The exhibit will be the third for KC sports artist, Anthony "AO" Oropeza, featuring his most recent Royals and other baseball greats.
ABOUT THE EVENT:
The one-day only exhibit is a celebration of art, the Royals, the 2015 World Series (WS) Championship and to display his most recent 5 ft. x 4 ft original featuring 1st baseman Eric Hosmer and third baseman Mike Moustakas celebrating a (WS) win.
The piece is scheduled  to leave Kansas City soon after the home opener and AO wanted to give the public the opportunity to view it for themselves.
The exhibit will be held at the quaint and widely popular, Ricos Tacos Lupe at 802 SW Blvd. (off Summit and across the street from Crown Liquors).
Come meet fellow art and loyal Royals fans for an arts night/pre-game exhibit and  chat with the artist about his work, style and future works he plans to create.
OTHER PIECES  THAT WAS DISPLAYED:
Lorenzo Cain / Salvador Perez (WIP) / Mike Moustakas (WIP) / Eric Hosmer (WIP) / Alex Gordon (WIP) / Chipper Jones / Derek Jeter
Roberto Clemente (WIP) / Barry Bonds (WIP)
SLIDE SHOW FROM PREVIOUS EXHIBIT:
Get your Own AO Original or Book a Visit
You will also have the opportunity to chat with AO about purchasing your own original painting of your favorite athlete.
AO is also available for school or organization visits to discuss his work.
For more information about getting your own AO Original or a school/organization, visit our Ordering page or if you have a question, please visit our Contact page.